Cronfa
Cronfa is the Central South Consortium's online school improvement tool for all headteachers, teachers, school staff and education professionals in the region.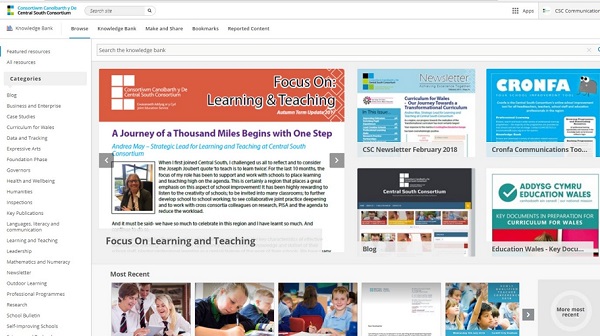 Cronfa features the following key tools:
Communities: Focused networks for sharing specific information:

Focused Communities: Networks focused upon a key strategic area such a closing the gap, leadership or numeracy – members are able to start discussions, share files, post announcements and receive notifications about activity in the community.
School Improvement Community: Every school in the region has a dedicated school improvement community, membership includes the school's headteacher, local authority, school's challenge adviser, the Consortium's data team and any other members of staff requested by the school – this is where the school uploads its SIP, SER and targets – the community also holds all other school information from funding letters to data packs. Members are also able to start discussions, share files and post announcements in the same manner as the 'Focused communities'.

Professional Learning Opportunities: Users can browse, search and book a wide variety of professional learning programmes – the majority of the programmes are provided by hub schools and are free of charge.
Knowledge Bank: Users can browse and download a variety of education related resources focused upon key strategic areas including the new curriculum, leadership, learning and teaching, closing the gap and much more.
How to Access Cronfa:
Events and the Knowledge Bank can be browsed without a login – logins are only required for Communities or to book events/programmes
Your Hwb username and password are your login
If you don't have your Hwb username and password, or have forgotten it please contact communications@cscjes.org.uk
Remember to login and check that your profile is up to date. Is your current e-mail address on your profile? All notifications will be sent to this address, including confirmation of your bookings, new resources and announcements in your communities.
For support please contact communications@cscjes.org.uk / 01443 281401.